Bluntness Media Q+A with TFP founder Rebecca Kershberg
How did you get involved in cannabis? 
Like many cannabis lovers, my journey to the plant began with recreational curiosity during college. I can't say whether living in California completely influenced my involvement with the business side, but a close family friend who lived in the valley actually had quasi legal grow houses. I remember helping him package and design labeling for various edibles - treats like BUDerfingers and SnapCracklePOT, anyone remember WolfDankPot? That was us :). Though my undergraduate focuses were multimedia and web development, it was thrilling to help my friend actualize his vision. Looking back, I realize that watching him succeed at his passion brought me joy in a part of my life that has, for a long time, gone unlabeled: career connecting. While traversing the digital realm, it was that connection with others and their passions that pulled me onto various wellness paths. I went back to school at Duke for integrative health coaching, nourished my soul in yoga teacher training, and cultivated a more scientific approach to wellness when I became a Certified Nursing Assistant (CNA).
My journey is riddled with bold interruptions and transitions but ultimately, it was that roving time spent legitimizing my skill sets in the wellness space that gave me the confidence to manage a naturopathic clinic in 2012. Based in New York, NY, Remede Naturopathics was founded by a mentor of mine, Dr. Nicole Egenberger, and applies clinical expertise with alternative medicine to address a wide range of health concerns. There, I found my love for herbalism. With medicinal magic on my mind, I returned to my home state to fuse my love for helping others with the healing that cannabis brings.
The seeds of The Flower Pot had been planted.
It's been a winding evolution, but if there's anything I've learned practicing herbalism - it's that roots matter. To this day, my origins remain a part of me, and whenever I find myself at the beginning of a creative project for TFP, I'm often inspired by the memory of that thrilled 22-year-old designing edible labeling in her friend's grow house. Talk about planting seeds! This garden of mine has been 15 years in the making. We so easily forget how deeply ingrained our own behaviors are aligned with that of Mother Earth. Given time, nourishment, and freedom to grow - we all bloom.
What is your mission with @theflowerpot.co?
My mission with The Flower Pot is to share the powers of self-care and cannabis wellness in a way that is easily accessible, educational, and enjoyable. Oftentimes, cannabis concoctions are perceived as young peoples' products, since they've found their way into current culture. I stand by the belief that cannabis has something to offer everyone.
As both a wellness lover and an enthusiast of herbal remedies, taking an experimental, investigational approach to healing humans from various walks of life is when I feel most aligned with The Flower Pot mission. Whether helping an aging mother treat chronic pain with arnica-infused CBD spray, scoping out products for couples seeking sensual relief, or advising my girlfriends how to gift well, my grassroots boutique is a one stop shop for all to reflect, release, relax, and restore.
Where do you see yourself in the industry in 5 years?
When considering the next five years, I'm called to reflect on the past five. So much has changed in the world of hemp healing. Though CBD products may seem like they've been on their come up for a few years now, it wasn't until the 2018 Farm Bill that hemp-derived cannabinol (CBD) was actually rescheduled from the Controlled Substances Act. There are still regulations to navigate within and around, and as we begin to see those regulations change, both the national and global perception of cannabis will shift even more than it already has.
 It's a really exciting time, but these changes ahead also make the future something of a wild card, because canna-business remains a largely uncharted territory. In many ways, canna-preneurs are pioneering the commercial use of cannabis. So, when I think about where The Flower Pot will be even one year from now, it's with a level of openness to the evolution that is inherent to the current landscape of the industry.
 Of course, in my dream world, TFP would be a staffed-up, dog-friendly brick and mortar shop serving flowers, coffees, teas, cannabis, and good vibes. Patrons would be welcome to sit in and enjoy a cuppa joe with an uplifting read or share company over a pre-roll. Catering to the idea of "a cannabis community for all," the space would offer educational wellness workshops and events celebrating topics ranging from herbalism in art to hemp healing. Anyone reading want to fund this self-care sanctuary? ;) We've learned by now the importance of asking for what we want. Truth is: people listen - and so does the universe.
What's the biggest challenge of working in the cannabis space and the biggest reward?
The biggest challenge thus far has undoubtedly been maneuvering through the dense legislation surrounding cannabis. Since it's so new to the market, there's still concern that the FDA will classify cannabis as a pharmaceutical. Meanwhile, those with enough daring to look past that face issues with payment gateways, banking, and advertising - which are all up against the overarching obstacle of modern prohibition.
Licenses and permits for THC-related businesses are not only scarce, they're also insanely expensive. This makes the business territory a bit precarious as resourceful hippies who forged their way through the illicit market face competition with corporate-trained white men who are currently dominating the market - viewing cannabis as a shiny, brand-new industry full of infinite opportunity. It definitely has the capacity to be that for a lot of people - but for now, pitching opportunities are going to those with enough capital to pay the hefty price of being heard by investors.
These challenges haven't been without their fair share of uplifting moments, though. I've been continually rewarded by the female community I've found in this space - the support, empowerment, and love I've received and shared with those women who are on this journey with me. Trailblazing (pun intended) with a tribe termed the Cannaboss Circle, I've learned it's okay to not know what the fuck is going on some days. That's part of the work - recognizing the enigma of the space that lies between where I am now and where I want to be. I'm learning to be inspired by that rather than terrified.
From journalists to lawyers, data specialists to farmers - we all come from wildly different backgrounds, but we bond over that shared feeling of dedication to our passion for the plant. Regardless of the day-to-day entrepreneurial obstacles we face alone, in the shared company of kindred spirits and brilliant minds, we're reminded: together we rise. There's hope in unity (and a lot of laughs, too.)
Do you have any advice for any fellow cannapreneurs?
If I could give my fellow cannaprenuers one word, it would be patience. There are so many routes one can take in their approach to cannabusiness, so it's easy to get overwhelmed and want to try everything. I've found that working simple works best. By narrowing the scope of products and starting with smaller goals, it's easier to test the waters and implement changes based on real data. There's no specific formula for success, but with iterations and consumer-driven evolution, a company can thrive.
 A lot of my client leads and e-commerce strategies have come from being open and adaptable - recognizing that growth won't always show right away, but it may come from unexpected places. The journey is anything but linear.
To be honest, I'm still a student, myself, when it comes to this. I've asked a lot of questions - even at the risk of seeming like a novice. I've reached out and attended meet-ups and gatherings to find like-minded healers and helpers. I've sought out mentorships and met with prospective investors. At the end of the day, it's most important to fake it 'til you make it. There's a reason why that cliché is repeated so frequently.
We cannot expect to achieve anything without believing ourselves capable of achieving it. So, put in the time, release your fears about not being "perfect," and do the damn thing. The moment you surrender to the chaos that comes with saying "yes" to pursuing your dreams is the moment growth begins.
001 HIT THE HIGH NOTES   Enjoy a complete sensory experience with our first playlist for the herbally curious.  Tunes for letting go. Tunes for getting high. Tunes for setting a vibe.  Head here ...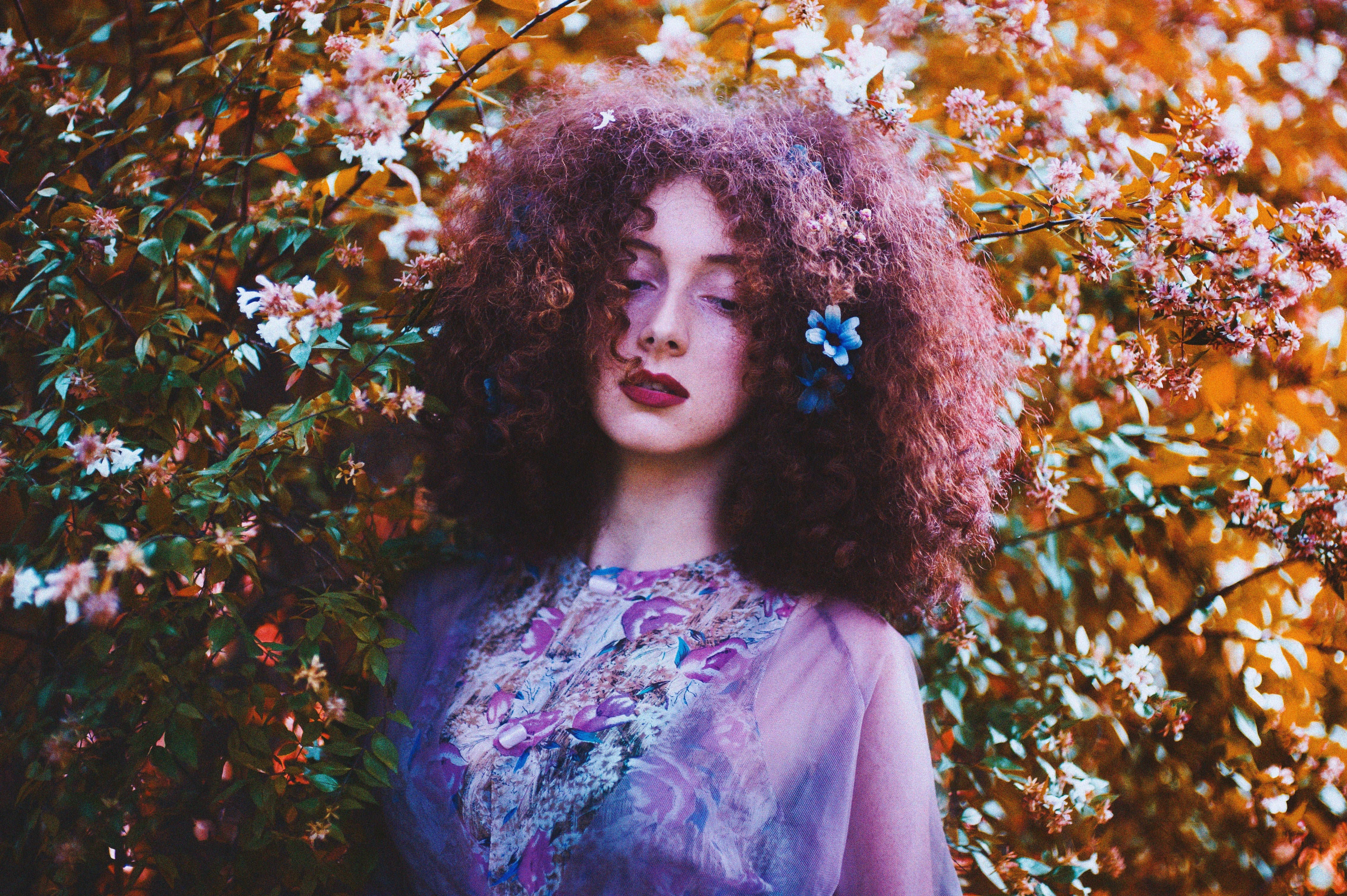 Pretty state of affairs. Achieve new highs with the purest, plant-based additions to your beauty ritual. Ride the waves. Bring the whip of the salty beach to you with a nourishing hair styling sp...