Article: Embracing functional mushroom chocolates with alice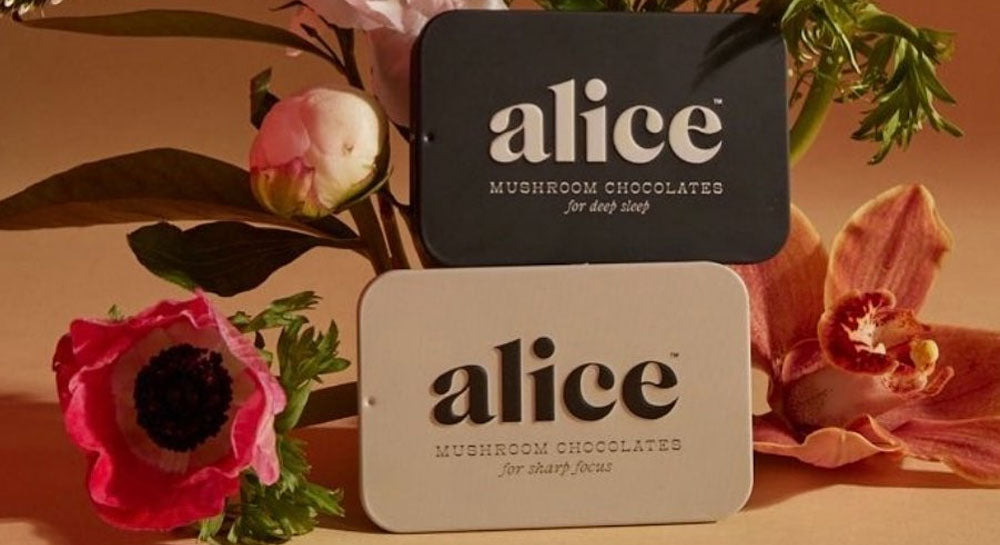 Embracing functional mushroom chocolates with alice
alice creates functional mushroom chocolates, pairing instant effects with long-term benefits. Started in a Venice, California kitchen, alice was founded by creative director and community-builder Lindsay Goodstein and food scholar and wellness authority Charlotte Cruze. A fascination with fungi led to culinary exploration, lots of mistakes, and realizations about the power of functional mushrooms. As 2022 came to a close, alice launched a decadent daily routine—two different mushroom chocolates, with two distinct feelings: meet Brainstorm and Nightcap.
As a proud stockist, we're aligned with alice's mission to help people feel comfortable with medicinal mushrooms. "We wanted to create something that would make people more open to exploring the unknown," she adds. Along with healthy indulgences, alice centers education for the fungi curious. "It was my curiosity that brought me closer to mushrooms," Goodstein says. But what are functional mushrooms? You don't feel their effects instantly; they have to compound over time. After a few weeks of regular use, you reach a critical mass in your body, and the nutrients can start to work their magic. Enter alice's delicious, safe and effective daily mushroom chocolates.
Meet the Duo: Brainstorm + Nightcap
Brainstorm contains two essential mushrooms—organic lion's mane and organic cordyceps:
🍄 Lion's Mane — offers unique benefits impossible with most supplements, because it can cross the brain's protective cell membrane (blood-brain barrier). By triggering your nerve growth factor, it can also reconnect and strengthen tissue in the brain. "It's great for people with Alzheimer's, as well as for learning memory, cognition, and mood," Goodstein says, "but it's all about the long-term play." When taking lion's mane daily, most people begin to feel benefits in about 2-3 weeks.
🍄 Cordyceps — helps bring oxygen to the muscles and improve blood oxygen levels. Research shows taking cordyceps daily for three weeks can improve athletic performance, helping you run farther and longer, Cruze says. A mainstay of traditional Chinese medicine, the public became aware of cordyceps during the 1993 Olympics. The female Chinese Olympic running team had been accused of using steroids, but really, it was a regular dose of cordyceps.
Along with organic fairly-traded dark chocolate, the all-natural ingredients with instant effects include chamomile, L-theanine, magnesium, and zinc.
Each piece of Nightcap contains organic reishi, the essential ingredient in Brainstorm:
🍄 Reishi — promotes calm, decreases stress, and regulates healthy sleep cycles. It works like an adaptogen to down-regulate the nervous system, while improving liver health and immunity, Cruze says. "Reishi is the queen mushroom, the mother mushroom, the mushroom of immortality; there's not much it can't do."
Along with organic fairly-traded dark chocolate, the all-natural ingredients with instant effects include guarana and phosphatidylserine.
A decadent rabbit hole
It was 2020, and side projects abounded. After seven years in pharmaceutical and medical sales, Goodstein began to look into natural alternatives. She quickly became fascinated by functional mushrooms. "I got fixated on creating this chocolate," Goodstein says. And if there's one piece of wisdom she learned from her previous profession, it's the importance of delivery method. "Mushrooms are so incredible for you, and we should be able to celebrate them," Goodstein says. "I wanted to make something delicious—that people would enjoy taking." 
Aiming to pair long-term benefits with instant sensation, Goodstein decided to blend functional mushrooms, herbs, nootropics, and adaptogens. Soon, she connected with Charlotte Cruze, who was getting her master's in food studies at New York University. The team grew, first bringing in homeopathic doctor Dr. Christian Gonzalez, and later formulators, biochemists, and fifth-generation chocolatiers. Together, they honed the two formulas that are now Brainstorm and Nightcap.
 Currently, alice makes mushroom chocolate for anyone looking to increase energy levels or sleep better. Not infused with psilocybin, the star ingredients in Brainstorm and Nightcap are functional mushrooms, which don't make you trip. alice aims for ultimate transparency.  Though you may not feel the benefits right away, there's no need to disguise functional mushroom chocolates as something else. 
As we enter a shroom boom, brands toss buzzwords like "microdose" to sell non-psychedelic chocolates, which muddies the waters for functional mushroom education. Cruze says, "We want people to know exactly what they are, and why they're so powerful. We want to serve as a bridge into that world." While influential in providing instant sensation, alice chocolates kindly (and deliciously) trick you into taking care of your long-term health with daily functional mushrooms. "That's the motivation to keep coming back," Cruze says. 
Higher standards: What makes alice special
Challenges of manufacturing chocolate
As a food scholar passionate about organics, Cruze describes the ingredients' quality as the most significant hurdle. There were a lot of holdups, she says. Organic dark chocolate is vegan; regular dark chocolate uses non-organic cane sugar processed with bone char. alice wasn't placing big enough orders to run the organic dark on its own manufacturing line. Though they could've launched months earlier, they waited to ensure the chocolates were accessible to vegan lifestyles. If they hadn't held off, Cruze says, "it wouldn't be the product we see now."
Finding a quality mushroom grower
When testing different mushroom growers, Cruze realized a lot of starch was being used during the extraction process. Starch drys the product while making the process quicker and cheaper, but also cuts the quality. Dumping dextrin powder onto the products creates higher polysaccharide counts, making it appear pure. "It's actually just a starch running a false positive," Cruze says. It was a long and arduous journey to connect with a mushroom grower they could feel good about… until they found the perfect woman-owned network of farms. "They use no starch in the drying process, and their extractions are the purest we've ever seen." Along with being proud to partner with woman-owned suppliers, the farm also focuses on organic fruiting body mushrooms. Although there's some debate about fruiting bodies v.s. Mycelium being the best, Cruze says, alice follows current knowledge, which shows "the fruiting body is where you're going to get the most nutrient density in the mushroom."
Balancing taste and benefits
Mushrooms can easily throw off the taste, chocolates can be challenging to work with, and the instant feeling was very important to us, Goodstein says. Intended as a daily routine, the founders don't expect you to eat half a bar of chocolate every day (though theoretically, you could, because each square contains less than a gram of sugar). But by ensuring the highest quality, alice chocolates achieve a delicious taste and maintain potency while requiring fewer ingredients in each bite. "In other products, you have to eat half of a chocolate bar to get the same mushrooms we pack into one square."
A future foray into psychedelics
Though lion's mane, cordyceps, and reishi have been the focus, alice believes these functional mushrooms can become a gateway to better understanding psilocybin. Aiming to release the first recreational psychedelic chocolates on the market, Goodstein connected with an emerging medicine and business attorney early on, who has been essential in guiding alice to embrace legalization. Alongside their attorney, alice founded The Microdosing Collective, an organization focused on demonstrating the benefits of psilocybin microdoses now to ensure timely clinical approval in the future. alice also contributes to The Hope Project, a woman-run safe space for military spouses and female veterans to access psychedelic treatment for trauma/PTSD. "We're very excited for the future," Goodstein says. "There's so much to learn about mushrooms… we're just at the beginning, and we want to honor that."