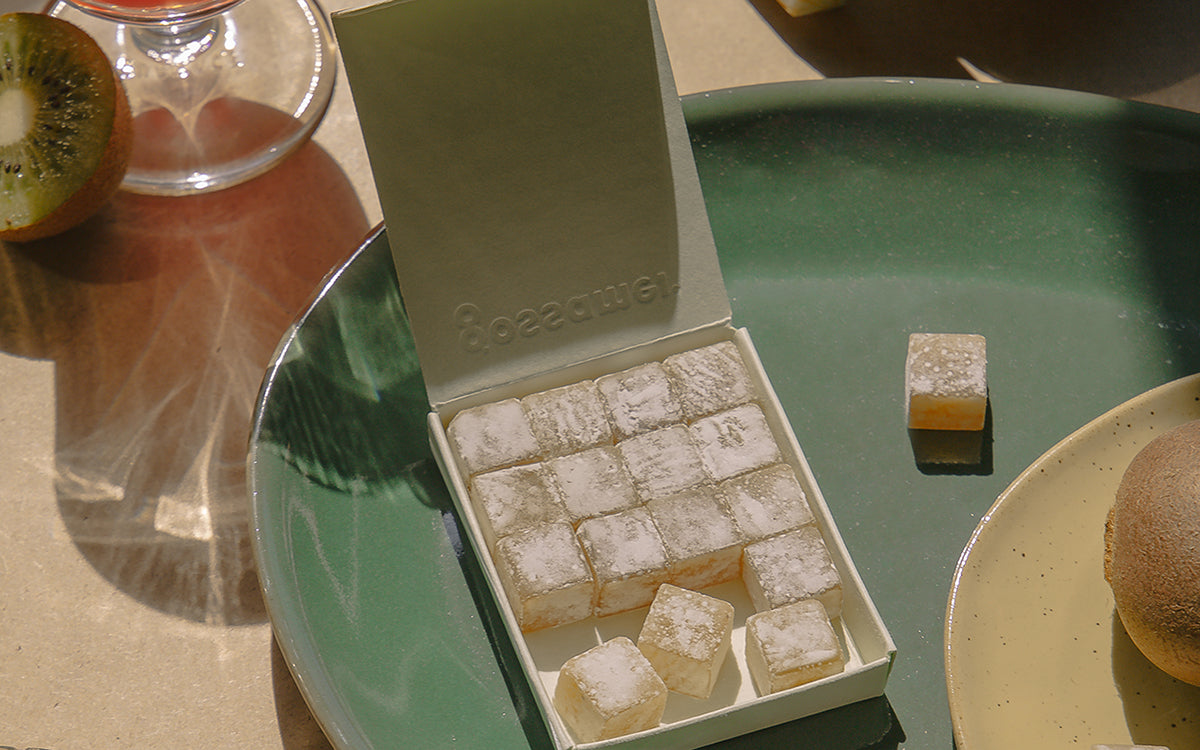 Gourmet Edibles Confectioner Extraordinaire, Meet Rose Los Angeles
Here at The Flower Pot, we are proud to stock a variety of pioneering brands in the CBD + THC industry. But one such brand that we are particularly excited to spotlight for you is Rose Los Angeles. Rose Los Angeles' CBD Rose Delights are known for their vegan and gluten-free single-strain flower rosin that is meticulously pressed in-house. 
Rose Los Angeles is a premium edibles brand that combines creative culture, sustainable agriculture, and award-winning chefs. Founded by Scott Barry and Nathan Cozzolino, veteran creatives with over two decades of experience working in cannabis. In 2017, when recreational use was legalized in California, the two friends set out to develop a consumer packaged good that would prize efficacy and inventive design, and in the process push up against the increasingly industrialized methods of the cannabis industry.
Want to cut to the chase? Take a look at all of the Rose Los Angeles products we carry at The Flower Pot below. These will give you just a taste of what they're ultimately after. 
| | | | |
| --- | --- | --- | --- |
| DAVID ZILBER PEAR KIMCHI CBD DELIGHTS | HIGH ENERGY CBD DELIGHTS | NUNCHI BOBA MIXED CITRUS OOLONG | DEEP SLEEP CBD DELIGHTS |
| POACHED PEAR II CBD DELIGHTS | BOXED WINE CBD DELIGHTS | APPLE UME GINGER | HIBISCUS ROSE CBD DELIGHTS |
What sets Rose Los Angeles apart is its multiple partnerships with Michelin-star chefs. Delivering inspiring flavors, the company is passionate about integrating high food culture into the CBD + THC industry. 
We had the pleasure of sitting down with Rose Los Angeles to get a better look inside the company as a whole. And while some companies prefer to separate CBD + THC products apart based on their desired effects for recreation or medicinal purposes, Rose Los Angeles reflects that for them, "The pleasure is the medicine. That is how we see that."
Interested to learn more about this innovative company? Keep reading below to find out the details of their operation.  
Company Overview + Interview
Some CBD + THC companies provide a range of products. But Rose Los Angeles focuses only on edibles and for good reason too. 
Edibles are non-carcinogenic and are less wasteful and economical than smokables. Two boxes of Rose Delights alone can translate to 20, 40, or 80 sessions, depending on your tolerance. And with edibles digested in the stomach, you'll also be in for a longer high. 
But newbies to CBD + THC need not be afraid of trying out these edibles. With just 10mg of CBD flower rosin in their CBD Delights and 5mg of THC flower rosin in their Cannabis Infused Delights, all products offer the same thought, care, and quality of ingredients. 
And that care and quality is present from the very beginning of the process. Rose partnerships with Michelin-star chefs also translate to their partnerships with local agriculturalists. Sourcing their CBD flower exclusively from Hudson Hemp and Sonoma Hills Farm, Rose is passionate about these companies' shared mission to work within a "closed loop" or no-waste system that restores ecosystems and nurtures biodiversity. 
Using seasonal foods to flavor their CBD Delights, Rose continuously acknowledges the creative culture of conscious food systems. Rather than sticking to stock ingredients year-round, their products remain informed by ecosystems and agricultural systems. This makes their products fresher and more in line with the conversation of each environment in which these ingredients are being sourced. 
If these attributes aren't enough to demonstrate Rose Los Angeles as a pioneer within this unique field, then their use of rosin in CBD edibles will certainly convince you of their innovative spirit. 
Rose's extraction method combines below-volatilization heating and pressure to squeeze rosin from the whole cannabis flower. This process helps to preserve more cannabinoids, terpenes, and other beneficial chemical compounds natural to the plant, making it a more pure and unprocessed product as a whole.
Other edible manufacturers prefer to isolate a single cannabinoid from the biomass of multiple contrasting plants. This often eliminates all other original medicinal compounds that are otherwise found in cannabis. 
But Rose Los Angeles products retain the therapeutic properties of the flower through rosin, making for clearer and stronger effects as well as a flower-forward tastiness that gets combined with new flavors throughout the season. 
And that flower-forward taste is deeply intentional. In fact, Rose Los Angeles shared that, "Our love for flower is what got us cooking with it. So we definitely wanted the flower's flavor present and tasty enough so that it is what you come back for. 
"It's an acquired taste, but once you've acquired that taste it definitely becomes a flavor you crave, not a flavor you want to mask or avoid."
Bringing that new flavor into the CBD + THC industry is something Rose Los Angeles plans to do on an international scale with projects lined up to see their products available soon in more countries. They even hinted at dipping their toe into the world of mushrooms and other psychedelics. 
And their ambitions don't stop there. With dreams to create alongside Guy Fieri and defining themself as "an instrumental harp cover of 'Zombie' by the Cranberries," Rose Los Angeles is a new face in the CBD + THC industry that certainly won't be going away any time soon. 
Shinano Smile Magical Grapes
Shinano Smile Magical Grapes come from the creative mind of Chef Virgilio Martinez Véliz of Centrale Restaurant in Lima, Peru. Sourcing grape juice from friends Seiji & Chiho Morimoto's Shinano Smile Japanese grapes and combining their sweet flavor with cold-infused muddled ginger and crushed pink peppercorn really brings this delight to life. 
Here at The Flower Pot, we found this flavor to be so heavenly, juicy, and rare that we had no choice but to include it in our roster of artisanal products. 
Each delight is infused with 10mg of Sour Space Candy First-Press CBD Flower Rosin from Hudson Hemp to provide the perfect way to wind down after a long day while enjoying a unique flavor you won't be able to find anywhere else. 
Jonathan Apple Rincon Tropics Passionfruit
Partnering with Chef Dominique Crenn to deliver this unique recipe, Jonathan Apple Rincon Tropics Passionfruit is infused with 10mg of Sour Space Candy Second-Press CBD Flower Rosin from Hudson Hemp. 
Combining Frederick passion fruit from the Rincon Tropics and house-pressed Jonathan apples from Nana Mae's in Sebastopol, this CBD Rose Delight offers bright flavors that merge the flavors of both summer and fall, making it perfect for any season. 
At The Flower Pot, we've found this particular delight to be full of high impact flavor, making it the pinnacle of culinary edibles and super-deluxe ingredients. Whether you're a connoisseur or newbie, try out this edible in our shop now!
Apple Ume Ginger
Apple Ume Ginger is made from Gravenstein apple cider, Ume Plum syrup, and fresh pressed ginger juice. Infused with Hudson Hemp Electra flower rosin, this CBD Rose Delight combines the stories of Bob Bernstein and Yumé Boshi, both of whom contribute the Gravenstein apple cider and Ume Plum syrup respectively. 
A part of the Pomo Tierra collective, Bernstein, better known as Bernie, is a member of the collective in Mendocino's historic Anderson Valley and has managed the 80-acre orchard since the early 1970s. Their Gravenstein apple cider has become a cult-identified phenomenon, contributing to the ranch's historic success. 
Similarly as decorated, Boshi's Ume Plum syrup was named the winner of the 2018 good food awards and provides a tart and floral aroma to the Gravenstein apple when combined. The final touch of fresh pressed ginger juice adds a subtle layer of spice to deliver high-quality flower rosin.
The Flower Pot is particularly fond of this flavor, earning it our rating of "cider-house rules with a ginger pop." 
Kiwi and Oro Blanco Grapefruit (Sour Space Candy)
Chef Natasha Pickowicz collaborated with both Gossamer and Rose Los Angeles to deliver the Kiwi and Oro Blanco Grapefruit Delight, a sweet and somewhat savory edible that combines peak-season Brokaw Ranch kiwi with oro blanco grapefruit from the Bernard Ranches family-run farm. 
The three-time James Beard Award nominee chef also includes a hint of celery in the recipe from the Catalan Family Farm that makes for a slight savory feel to keep the consumer and their palette guessing. 
This unique CBD Delight can be found in our online shop where you can savor that first citrusy bite and enjoy the aftertaste of a savory sweetness. 
Ponche
Rose Los Angeles' latest collaboration with Chef Enrique Olvera delivers Ponche, a spin on a traditional Mexican punch. Using Hachiya persimmons from Blossom Bluff Orchards and combining them with organic hibiscus flower and Pujol tamarind paste, this delight makes for a tangy and complex flavor palette any foodie will enjoy. 
Each delight is infused with Hudson Hemp Electra first-press CBD flower rosin, giving the body a chance to relax and give into the unique flavors of this modern Mexican punch. 
Catch it at The Flower Pot and enjoy that fruity floral bite that packs a "ponche."
Poached Pear
Chef Enrique Olvera once again cracked an incredible flavor with his Poached Pear Delight. Sourcing Green D'anjou pears from Mt. Hoot Organics and poaching them in Koch mezcal, these delights are also finished off with a smoky and sweet Ancho chili powder, made by Enrique's team in the Pujol kitchen. 
Infused with Sonoma Hills Farms' Prism first-press CBD flower rosin, each delight will bring you relief and give you a taste of genius from the Pujol kitchen, the 12th best restaurant in the world. 
You won't get a more high-end experience, and you'll love the flavor combination Chef Olvera has conjured up, making this CBD Delight a perfect pear. 
Rose Hibiscus 
Rose Los Angeles' only year-round product is the aromatic and bright floral experience that is Rose Hibiscus. This delight merges organic rose water and organic hibiscus flower to create a pure combination of blissful botanical healing.  
Infused with single-strain flower rosin from Hudson Hemp, these delights benefit both you and the planet as Hudson Hemp regeneratively farms CBD flowers to make for conscientious food systems. 
If this isn't enough to make you fall in love with what you're eating, then we don't know what will! Catch these rose colored gummies at The Flower Pot today. 
Eat Dirt
No, actually. Rose Los Angeles' collaboration with Dirt, a Toronto-based cannabis lifestyle brand, will have begging for more with their unique blend of Valencia orange, Anjou pear, passion fruit, grapefruit, and celery juice all packed into the full experience that is Eat Dirt. 
Coated in a compost blend of Kukoto sugar, Mendocino foraged candy cap mushrooms, cacao, activated charcoal, pickled red shiso leaves, and Maldon sea salt flakes, this CBD Delight will leave you electrified from the mix of ingredients. 
Enjoy the Electra flower rosin grown by Hudson Hemp in our digital shop and you'll ask us to treat you like dirt. 
Blueberry Caipirinha 
Chef Manu Buffara from Curitiba, capital of the Southern Brazilian state of Paraná, teamed up with Rose Los Angeles to deliver this summer splendor with a twist. Manu's Blueberry Caipirinha Delight highlights traditional Brazilian flavors while using organic California produce.
And you'll love the Prism first-press flower rosin from Sonoma Hills Farms packed inside such unique ingredients. With wild foraged Coastal Moon blueberries, Coke Farm Meyer lemons with Novo Fogo cachaҫa, and topped off with foraged mint, this CBD Delight will help you welcome in summer with refreshing flavor profiles. 
Be sure to catch this delightful summer twist at The Flower Pot today. 
Brain Dead Cherimoya Sannam Chili Lime
Ever heard of cherimoya? Well, after hearing how this flavor is described, you'll never forget that name again. When softened, cherimoya is like a creamy custard with hints of mango, pineapple, and banana, earning it the descriptor "deliciousness itself." 
In collaboration with Brain Dead Studios, Brain Dead Cherimoya Sannam Chili Lime CBD Delights capitalize on peak-season cherimoya from the Rincon Tropics, coupling it with Guntur Sannam chili from Diaspora co. and limes from Bernard Ranches. 
The Hudson Hemp Kush flower rosin in this CBD Delight makes for a tripped-out tropical cocktail you can't help but enjoy. Stop by our digital shop and order yourself the cream of the crop today. 
Other Rose Los Angeles Flavors
Poppy Apricot Lemon Verbena
Chef Nicole Rucker decided to combine ingredients from Dirty Girl Produce and Blossom Bluff Orchard to create this Poppy Apricot Lemon Verbena Delight. A 40-acre certified organic family farm located in Santa Cruz County, Dirty Girl Produce grows over 20 different varieties of fruits and vegetables year-round. 
Blossom Bluff Orchard is similarly as decorated as is widely considered one of the most fertile farmlands in the world. Located in the heart of Calirofnia's San Joaquin Valley, the orchard has been producing fruit since 1931. 
Each delight is infused with Ironside Farms Yuzu Rosin and contains 5mg of Harle-Tsu CBD rosin. 
Watermelon, Tomato Sencha Green Tea
In another collaboration with Gossamer, Rose Los Angeles featured Chef Tara Thomas to bring you their Watermelon, Tomato, Sencha Green Tea Delight. Combining peak-season watermelon flavor with tomato and sencha green tea, this delight tastes like summer and lays the perfect foundation to deliver full-spectrum CBD in every piece. 
Infused with sour space candy CBD flower rosin, each delight gives you and your body a chance to soak in the full effects of the flower while enjoying these gorgeous flavors too. 
Rose Los Angeles Chef Partnerships
Chef Virgilio Martinez Véliz
Peruvian chef and restaurateur Virgilio Martínez Véliz is considered one of the new generation of Peruvian chefs attempting to spread Peruvian cuisine worldwide. He is most known for his use of combining modern cooking techniques with indigenous Peruvian ingredients. Véliz often collaborates with his wife Pia Leon and sister Malena Martínez to make the most unique flavor combinations - one of which you can enjoy at The Flower Pot. 
Chef Dominique Crenn
French chef Dominique Crenn is currently the only female chef in the United States to have attained three Michelin stars. She received such high awards for her restaurant Atelier Crenn in San Francisco. Her collaboration with Rose Los Angeles CEO Nathan Cozzolino focused on the movement for more creativity in cannabis products as paired with local quality ingredients - another one of which you can enjoy with us at The Flower Pot. 
Chef Natasha Pickowicz
Pastry chef Natasha Pickowicz is best known for her acclaimed Café Altro Paradiso and Flora Bar in New York. In addition to heading two successful ventures, she also runs multiple pastry programs and fundraisers that donate to causes she is most passionate about, namely Planned Parenthood. Merging her baking with activism, Natasha is definitely a chef you will want to keep your eye on!
shop: KIWI AND ORO BLANCO GRAPEFRUIT CBD DELIGHTS
Chef Nicole Rucker
Founder and owner of Fiona and Rucker's Pie in Los Angeles, Nicole Rucker is a four-time blue ribbon winner of KCRW's Good Food Pie Contest. She formerly served as the pastry chef of the Gjelina Group but is internationally known for her rustic desserts that have won her several awards. Her first cookbook Dappled is out now!
Chef Enrique Olvera
Mexican chef Enrique Olvera is the owner and head chef of Pujol, a Mexican haute cuisine restaurant in Mexico City. Currently, Pujol is ranked as 12th in the world according to the 2019 annual The World's 50 Best Restaurants listing. His unique flavor combinations can be found in Rose Los Angeles' most recent collaboration on CBD Rose Delights Ponche and Poached Pear. 
Chef Tara Thomas
Chef Tara Thomas is based in Brooklyn, NY and is currently developing a few restaurant projects while managing communications at Caldera magazine and Phoenix Fresh Food Box collective. Since becoming vegan in 2015, her interest in plant-based cuisine, food issues, and radical agriculture have spurred her to make such food choices accessible to marginalized communities. 
Spotlight Wrapped 
Rose Los Angeles has been featured in Paper Magazine, T Magazine, and The New Consumer, all of whom have hailed Rose Los Angeles for their innovative spirit to bring together the elements of creative culture, sustainable agriculture, and award-winning chefs. 
While we take pride in all of our brand partnerships, we believe in the power of Rose Los Angeles to deliver such products that are revolutionizing the CBD + THC industry, making edibles that are both beneficial to your body and ethically made so as to benefit the planet as well. 
Be sure to check out their products on our website and spotlight Rose Los Angeles on your own with your friends and family. Help them discover the unique combinations of high-quality ingredients and full-spectrum CBD. They'll be thanking you in no time.