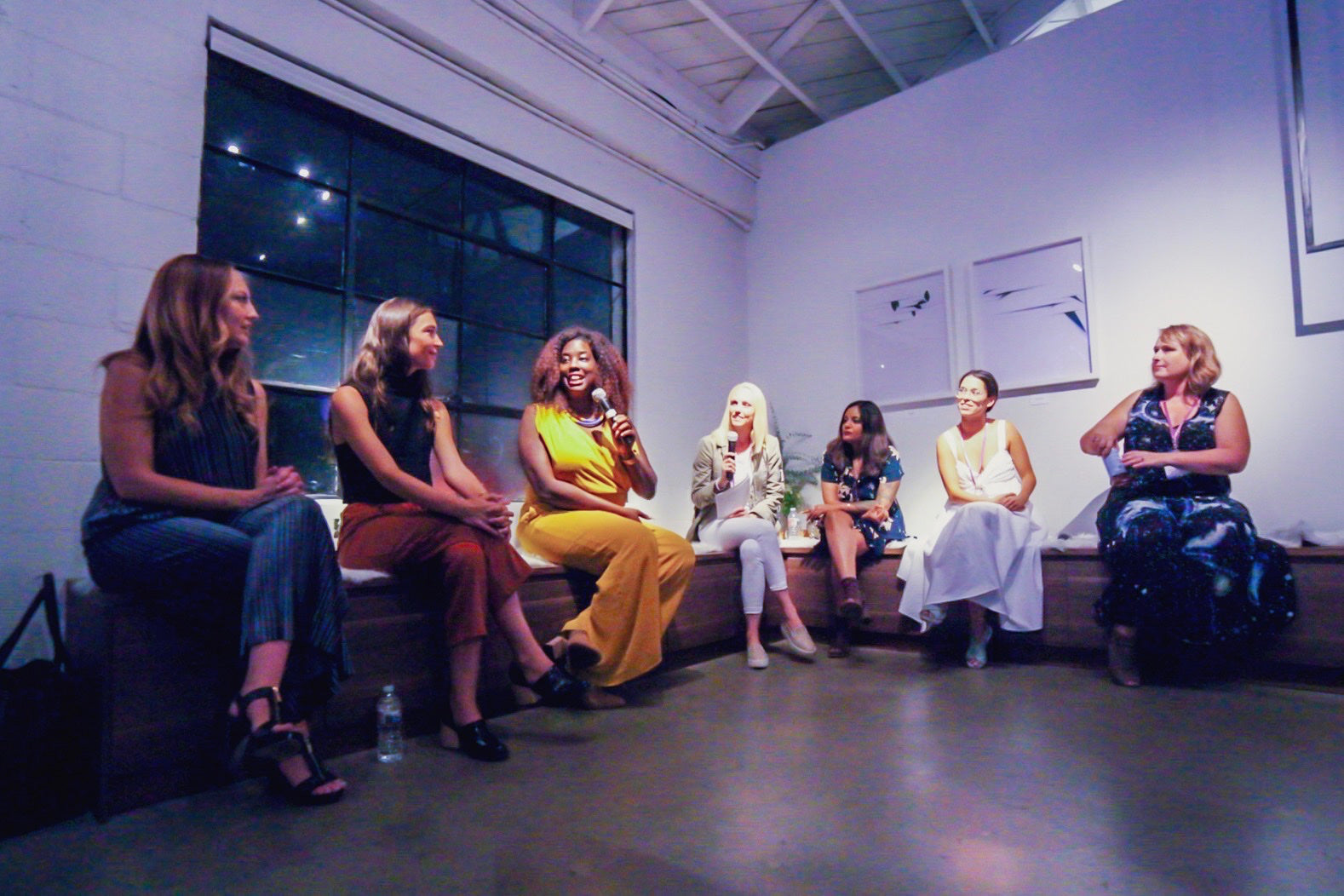 Bed Head: A Sleep + Sex Soiree // the highlights
by Lauren Delisle
The moon masqueraded at 12 degrees Pisces on October 10th at 6:30pm Pacific Time -- calling attention to dreams and deeper selves. But of course, The Flower Pot's launch event was scheduled on a night when the energies of sultry Scorpio, harmonious Libra, and playful Pisces would be aligned. How's that for divine feminine wisdom?...Speaking of which, it was that very female knowing that birthed botanical wellness boutique, The Flower Pot.
While initially for its founder, Rebecca Kershberg, the plant was a recreational curiosity in college, it eventually became a creative on-switch and source of solace for her. In reflection on her path to the plant, the creative LA native explained, "it helped me access a flow state, where time would move just a little bit slower."
It was with that flow state in mind, and a desire to share its powerful healing properties with others, that she decided to curate a one-stop-shop for all things women's wellness -- to hold space for herbal remedy and intuitive self-care.
Launching in style, The Flower Pot's sleep and sex-centered premiere event took place at The Bedroom -- Lunya's luxe Santa Monica-based sanctuary for sleepwear, which was generously offered by Lunya's founder, Ashley Merrill. Call me charmed, this nightgown gallery was literally made for cozying up to intimate topics.
Combining an urban warehouse feel with soft interior details -- intentionally placed light lavender nightgown sets, botanical bouquets, and pink-tinted mood lighting -- the space set the tone for what can best be described as a celestial unfolding. Tunes of Rhye and Banks echoed off the walls, calling to mind themes of goddesses, enchantment, and midnight magic. Maybe it was the herb-infused tea talking, but everyone there was ready to embrace their inner empress and get elevated. Part of that meant product perusing.
The evening placed emphasis on conscious care, highlighting a wide variety of brands that all shared the common values of intention, informed use, female empowerment, and ethical sourcing. Of course, The Flower Pot's wellness layout was no exception. Na Nin candles and Foria lube invited intrigue for all who explored, and Kershberg was sure to note the three most important product criteria upheld by The Flower Pot:
It must be ethically sourced.

It must support local businesses.

It must be made by women-led or women-centered companies.
In an age where female self-preservation is a political act, we must all re-evaluate the way we prioritize our self-care rituals.  This event reminded us why they matter, at any age, life phase, or state of being. Being a brand that teaches others how to "give well," The Flower Pot drove home the idea that consciously giving to ourselves can be the most powerful act of compassion we make in life (and that we can have fun doing it.)
Vibe
The trail of candles at the entrance greeted each attendee, which glowed beneath a wall-spanning TFP Bedhead art print, offering a sense of immediate warmth.
Whether an ode to lighting up in style or feeling the slow burn of an evening in with a Boy Smells candle, the sense of home was unmistakable. And to top it all off: a bed, front and center. We can thank Lunya for this clever use of furniture to evoke the comfort of a familiar setting that resonates with all people.
For those channeling Carrie Bradshaw as she hit the streets of Manhattan with her gals or embodying the spirit of Mia Thermopolis while she swayed with Genovia's contessa and the Queen at her royal sleepover, the wildly unique personalities mixed an evening cocktail made for cosmic conversation.
Beginning with a mix and mingle between an array of tables displaying the latest brands and insights of the wellness world,  the social buzz was warm and inviting. Some got cozy at couches, sitting among sexperts and plant healers. Others explored, noting the chic gender-neutral bathrooms complete with a mirror labeled "good in bed." How truly apropos.
At one table, Bloom Farms CBD sampled their full spectrum, organically grown CBD tinctures and vapes -- sharing their mission of supporting California-local farmers and food-insecure individuals and families. CBD Account Manager Emily Upton brought the brand's mint and stonefruit flavors for trying, but their unflavored CBD tincture was earthy and subtle in taste, offering a nutty essence that's unique to their formula. A couple drops under the tongue while stuck in a traffic jam or caught in a moment of anxiety were recommended. This event itself didn't warrant any stress-soothing medicinals, but most indulged in a drop or two.
Beside the Bloom table on the far right wall, an assortment of sex toys were splayed between socks labeled "Dame" -- enough to draw anyone's intrigue. When asked about the socks, Rachel Malkin, brand educator explained, "wearing socks can induce feelings of warmth and comfort, which relaxes the body and mind, making it easier to orgasm."
This female-focused sex toy brand was not shy when it came to sharing their pleasure products, which made learning about them that much more fun. Talk about hands-on education ;) The Brooklyn-based sexual health company was founded by femme gurus Alexandra Fine and Janet Lieberman, a sex psychologist and an engineer, respectively. Together, they invented "Eva," the most crowdfunded sex toy in history.
Since then, they've released a wide range of vibrators and sex-enhancing products made for people with vulvas, as their site says. Though Lieberman couldn't make it out for the event, Fine was more than fine when it came to addressing "the pleasure gap."
She pointed out a report from the National Survey of Sexual Health and Behavior in 2010, which indicated that women reported less satisfaction with sexual activity than men, with less pleasure, less arousal, and less orgasms. Dame strives to change that. Their slogan promises that their products "get you there without getting in the way." Enchante, sisters.
OUR FAV SELF-LOVE PRODUCTS
Nourish
The remarkable attention to detail didn't end with the wellness brands serving a nod to nodding off and an ode to the orgasm. An assortment of plant-based offerings decorated a true harvest-hailing charcuterie board -- complete with libido-lifting provisions and euphoric chocolate-coated treats. Among the most gushed over was the "my heart skips a BEET dip" which featured lemon beet hummus infused with CBD and mood-enhancing adaptogens.
The alluring arrangement and intentional ingredients were the perfect accomplices for The Flower Pot's launch event, as it stole away the evening in style. But who was behind this abundantly inclusive feast? Her name's Sarah Cat, and she knows a whole lot about medicinal foods. When asked what prompted her to start the company, appropriately-termed MOODBOARDS.LA. Cat explained it's her way of "creatively exploring design, food, and self-care."
This plant-layout-loving professional has always been interested in fashion. Utilizing the skills she cultivated from that industry and combining it with her mad-skill for food layouts, Cat decided to decorate charcuterie boards for her friends when she would have them over.
Taking her love for food and design one step further, Cat began exploring all-organic, locally-sourced food combinations that those with food restrictions, including herself, could enjoy. Her menu accommodates vegans, vegetarians, and gluten-free humans alike -- underscoring The Flower Pot's brand value of wellness for EVERYbody.
Sip
Libations, anyone?
No launch is complete without beverages galore -- an essential The Flower Pot made no mistake to honor. Thanks to generous sponsorships from brands Vybes and Recess, there was a wide variety of options to choose from.
From Vybes: blueberry mint and strawberry lavender teas for optimal mind and body function. Each tea contains 25mg of hemp extract, an amount that Vybes founder Jonathan Eppers believes can help people relieve stress and find balance in today's fast-paced world.
From Recess: colorful cans of sparkling water infused with hemp extract and adaptogens received rave reviews from all who wet their whistles.
Flavors of pom hibiscus and peach ginger tingled on tongues -- a fizzy and fresh alternative to the wine and water that was also offered. But the drinks didn't stop there.
For those who prefer a hot beverage with their moonlight unwind, Kikoko presented their Cannabis-infused herbal teas. Flavors "Sympa-tea" for calm relief, "Tranquili-tea" for sleep, "Sensuali-tea" for playful passion, and "Positivi-tea" for joy were on display, accompanied by New Zealand-sourced, cannabis-infused Manuka and Kanuka honeyshots in flavors Calm, Snooze, Focus, and Buzz.
One Kikoko brand representative shared her personal appreciation for the water disposable quality the teas have. Regardless of how much water is added before the tea steeps, the cannabis potency of the tea will be the same. Who doesn't love a tea that can accommodate singles, duos, and a good ole ménage à trois? I personally poured one up to that.
Discover
Then came time for the evening's showstopper, Pillow Talk: A Sexy, Sleepy Panel Discussion. Spellbound speakers sat in the venue's corner before the bed and chairs where audience members settled.
Beginning with a heartfelt introduction from Kershberg, the panel saw all fall silent to observe what was evidently the apex moment in a true labor of love. The Flower Pot's founder was no-doubt in her element, as she spoke on the boutique's origins and her passion for cultivating a female-forward business, life, dialogue, and community.
By the end of her opening introduction, one thing was clear: when it comes to pioneering the industry as a femme-powered cannabusiness, The Flower Pot is only just getting started.
With a whisk of a hand, Kershberg passed the mic on to Camilla Sacre-Dallerup, who was affectionately introduced as the evening's moderator, human sunbeam, hypnotherapist, author, and life coach. Bringing the room together, Sacre-Dallerup called upon all to close their eyes and observe a moment to center. The existing intimacy of the cozy setting was instantly made more intimate. This was a safe space, and everyone could feel it.
Then, one by one, Sacre-Dallerup welcomed each of the chosen speakers and led an inquisitive Q & A sesh. Inquiries about the how of sleep hygiene, the differences between THC and CBD, and the menstrual cycle-moon relationship were thoughtfully discussed, with answers that were both well-informed and vulnerably honest.
Moushimi Ghose, THE SEXPERT
One particularly powerful moment of truth was when Moushimi Ghose, Sex Therapist of Los Angeles Sex Therapy, brought up one of her own sexual preferences. "I like sex between 11am and 1pm," said Ghose, bluntly. "That's my lunch hour." The wisdom behind Ghose's sentiment spoke to the idea that sleep and sex can be in different categories.
"It's not selfish to take care of yourself first," Ghose added, noting how empowering it was to be open with her romantic partner about her needs. Sex is more fun when everyone involved can reach their own pleasure in a way that's honest to them.
Kiana Reeves, THE PLEASURE PRINCIPAL
It's clear that pleasure has to do with what we ask for, but when we don't explore our options in the bedroom, we may never know what truly gets us off. That's where the leaders of Dame and Foria Wellness took the stage.
I can't imagine a more passionate and informed brand educator when it comes to CBD, intimacy, and wellbeing than Kiana Reeves, Chief Brand Educator at Foria Wellness. Promoting the Foria brand value of maintaining the highest standards of transparency when it comes to the magic of CBD in relieving pain and enhancing sexual experiences, Reeves shared the benefits of Foria's suppositories.
"To date, there haven't been any studies on the application of cannabis on genitals." Reeves noted. But that fact only encourages her to explore the uncharted powers of the plant.
Foria suppositories contain CBD oil and can be used vaginally or rectally for local muscular relaxation and inflammation relief. Here's what Reeves had to say about them:
"The amazing thing about suppositories is that they don't have to go through the digestive tract the way oral pain medication would. So they can get right to the source in alleviating pain and promoting comfort."
When Foria received customer feedback that the menstrual suppositories had aided with sexual arousal, they decided to create sex-dedicated suppositories, which will soon be launching.
Alexandra Fine, THE TOY MAKER
Dame CEO + Founder Alexandra Fine also contributed to the discussion on sexual enhancement, immediately calling out a long-held stereotype about sex toys.
"People think vibrators are a single women's product. But married women are actually twice as likely to own a sex toy. It's not wrong to prioritize pleasure. It's time to normalize that."
No arguments here! The long-held hush-hush in women openly having and discussing sexual needs is over, and Fine sees Dame toys as a way to experiment with that newfound power. 
Exploring various ways to experience pleasure with your partner or yourself is to embrace a side of you that can teach you more about the person you are. Ghose even jumped in, adding that we tend to divorce the sexual side of us from the being side in modern society. But we are sexual beings. Our carnal desires are a vital and informative part of us.
Kimberly Dillon, THE CBD QUEEN
Carrying on the theme of honesty, Kimberly Dillon, CBD Queen, former CMO of Papa & Barkley and founder of up and coming beauty brand Frigg Wellness,  kept it real with her insights on the cannabis industry, emphasizing the importance of plant-based products amid the current opioid crisis.
Dillon also noted that the cannabis industry is currently dominated by men -- some of whom don't have much of a heart for cannabis.
"Big Cannabis can ruin the momentum we've fought so long for. Men who aren't even using it are profiting off of it. And with recent laws, cannabis may also go the Big Pharma route. That's why our work right now is so important. It's setting a precedent."
For boutiques like The Flower Pot, it's important we keep our hand on the national and global pulse. The development of this industry is in part contingent on the way we choose to engage with it. Dillon's words made that clear as ever -- as she reminded people of their responsibility to go forward, femme-foot forward.
Dr. Nicole Egenberger, THE GOOD DOCTOR
When the conversation was turned over to the audience, one attendee who recently gave birth inquired about sex after delivery. To this, Dr. Nicole Egenberger, naturopathic doctor at Remede Naturopathics had profound insights, encouraging women to abide by their bodies' intuition.
Often times, new mothers can feel pressured to jump back into physical intimacy with their partners. Sex can feel like an obligation to a partner's pleasure. But Egenberger advised, in a note for both new mothers and nonmothers, "sex should be something that you want to engage in as well, and sometimes, the journey back to that place can require patience."
While the statement undoubtedly hit the room with impact, conversation soon fell to other life circumstances -- including the big M. Menopause: the word so many women fear in conversation. Addressing it as an inevitable part of life for people with vulvas, Egenberger stood firm in her belief that menopause can actually be something to celebrate.
"What I've found to be consistent among my patients experiencing menopause," Egenberger reflected, "is that they are far less willing to caretake and far more firm about their boundaries. Any kind of transformation can be bumpy, but it's important to remember that menopause isn't the end of life, it's the beginning of the second part of your life. And for many, it's liberating." 
These words of wisdom accompanied sentiments that some knowledge comes outside of the lab and expert prescriptions of valerian for those waking out of sleep, skullcap and cava for racing thoughts and tart cherry juice before bed for those wanting to reset their circadian rhythms. My main takeaway? Nature has all the knowledge we need. All we have to do is listen.
Unearth
Following the panel, conversations continued among the crowd. Some approached Egenberger to ask for her personal remedy recommendations, others thanked Ghose and other speakers for their transparency. The wistful re-imagining of shyer times in life were recalled while new sexual speculations were sorted. A few commented on the elegantly hung Lunya nightgowns on one wall -- the seeds of a future purchase planted.
Reflecting on her own journey to CBD, one event-attendee, Tahlia Pou, celebrated the inclusive, cannabis-centered event, as a college athlete who regularly benefits from the power of the plant. "It's a lot of stress being an athlete and a student," Pou said.
"When I started experimenting with CBD topicals and capsules, I overcame the stigmas on my own. I learned how important it was for me to alleviate that stress. I was recovering better. I was feeling better."
Now, Pou shares her love of CBD with fellow team members, knowing it can help them too. It's through people like Pou that cannabis culture eliminates its outdated stereotypes.
While the rest of the event-goers walk different life paths, plant passion was the common thread that united & ignited. Fitness trainer and health extraordinaire Lacey Stone chatted with blogger and lifestyle creator, Jess Lizama. Others in attendance included cannabis attorney Ariel Clark, Cannaboss Circle founder Jackie Mostny, Foria founder Matthew Gerson, the fabulous Jahan Yousaf of Krewella, and Orissa Rose of Conscious City Guide. And of course, it would be impossible to forget the beautiful energies of the evening's coverage team - Brooke Stellar of Budding Mind who captured video and Ashley Carucci, LA-based photojournalist, on photos.
As things wound down, a late-night raffle winner was revealed and laughs were luxuriated in, among new friends and new insights.
Recenter
The launch party was coming to an end, but the sound of curiosity still palpable across the room left a second event to the imagination. I'll turn this anticipation over to Kershberg. Surely, she's got some sweet dreams stirring, and the many summons for a sequel speak to the need for a future series.
Sex and sleep may not receive much thought in our daily lives, but clinical research and female-fielded opinions at events such as this one emphasize just how vital these topics our to our overall wellbeing.
But while we eagerly await the next women-centered assembly, we can keep our eyes peeled for The Flower Pot's gift guide, which will formally roll-out at the end of this month. A little birdie told me the theme encompasses the idea of many tiny worlds, the many universes in which we must learn to love ourselves.
Featuring wellness gems for the woman lacking REM, offerings for the over-thinker, sensual sweets for intimacy, soothing agents for athletes and more, the personality-based format appeals to all. And just in time for holiday season...
'Twas the night after Bedhead and all through the house, every creature was stirring, every thought well-aroused. 
Whether you're reading this before the blue light of your office desktop or cozied up with your phone in bed for the evening, here's a celebratory e-toast to The Flower Pot for its long-awaited launch. And to the evening's panelists, sponsors, and attentive attendees -- who opened up discourse on intercourse and embraced the stuff of dreams.
Whenever the next one is, whoever you are -- I'll see you there. ;)
– LAUREN DELISLE
We commissioned this piece from Lauren Delisle, LA-based screenwriter, mental health advocate, and women's wellness devotee.
–
At The Flower Pot®, our mission is to create a safe and reliable space for you to explore + experiment with the benefits of botanical medicine. Follow us on Facebook, Twitter, Instagram, Pinterest, Youtube and LinkedIn.