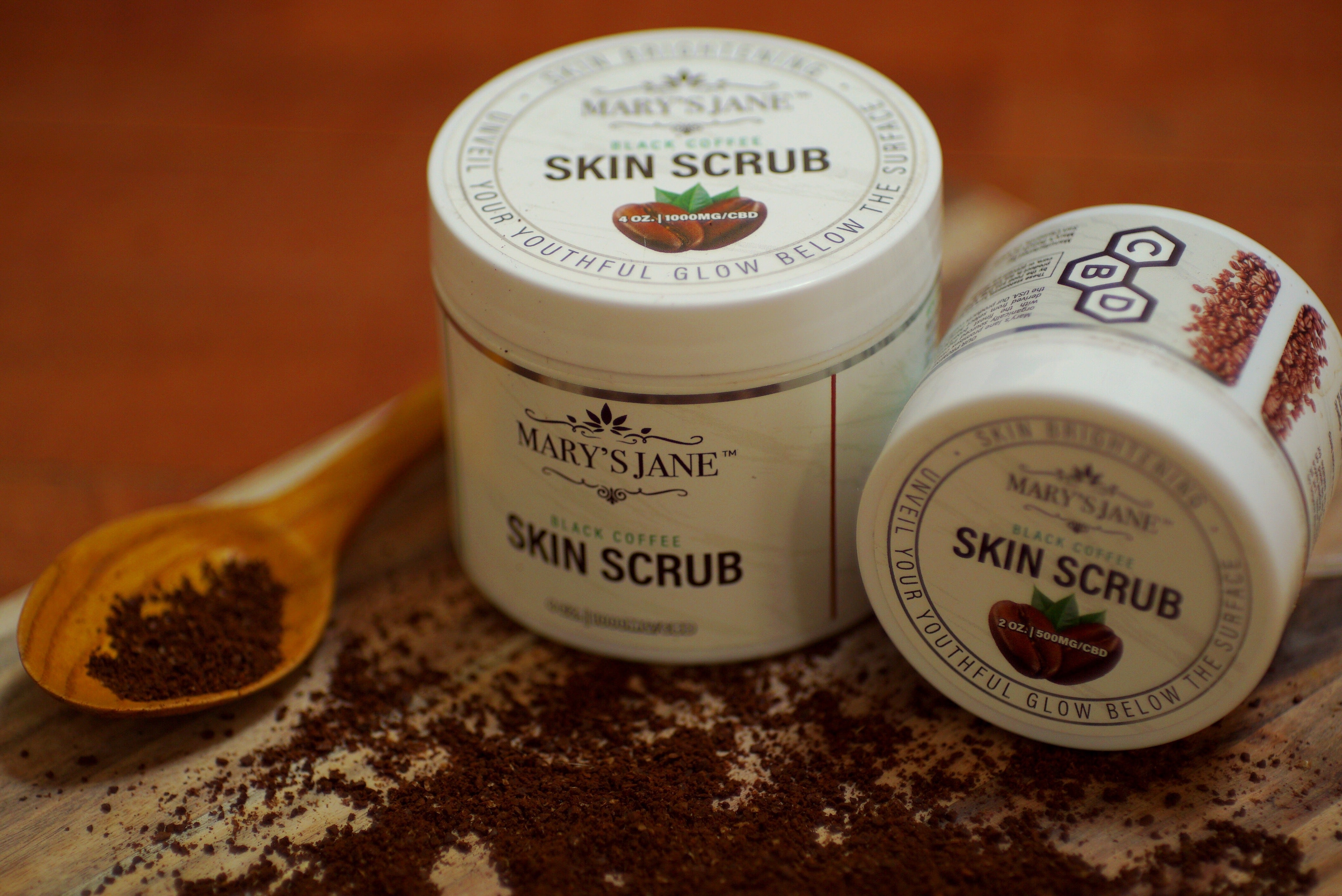 Spotlight on: BLACK COFFEE SKIN SCRUB 
Featured on our premiere episode of 𝗠𝗲𝗲𝘁 𝗬𝗼𝘂𝗿 𝗠𝗮𝗸𝗲𝗿𝘀. This Mary's Jane Beauty staple is bursting with benefits. Here is the botanical breakdown.
🥥𝗖𝗼𝗰𝗼𝗻𝘂𝘁 𝗼𝗶𝗹 - helps reduce inflammation, keeps skin moisturized, plus aids in healing wounds. The medium-chain fatty acids found in coconut oil also possess antimicrobial properties that assist in treating acne and protect skin from harmful bacteria
💆🏻‍♀️𝗢𝗿𝗴𝗮𝗻𝗶𝗰 𝘁𝘂𝗿𝗯𝗶𝗻𝗮𝗱𝗼 𝘀𝘂𝗴𝗮𝗿 - a gentle, natural exfoliant. By softly removing the dead skin cells, fresh, smooth skin is uncovered.
☕𝗙𝗮𝗶𝗿 𝘁𝗿𝗮𝗱𝗲 𝗖𝗼𝗹𝘂𝗺𝗯𝗶𝗮𝗻 𝗰𝗼𝗳𝗳𝗲𝗲 - the coffee grounds organically brighten and tighten skin. Known to stimulate blood flow beneath the surface of the skin, coffee can be helpful in decreasing the appearance of dark spots, sun spots, wrinkles, and uneven pigmentation.
💦𝗩𝗶𝘁𝗮𝗺𝗶𝗻 𝗲 - a powerful anti-aging oil that leaves skin feeling hydrated and supple.
🌿 𝗛𝗲𝗺𝗽 𝘀𝗲𝗲𝗱 𝗼𝗶𝗹 - regulates the skin's naturally occurring oil production –– moisturizes without clogging pores (essential if you are acne-prone).
🌱𝗖𝗕𝗗 𝗶𝘀𝗼𝗹𝗮𝘁𝗲 - a pure, powerful anti-inflammatory. Calms irritated skin and may relax the facial muscles – hello vacation glow.
🌰𝗖𝗶𝗻𝗻𝗮𝗺𝗼𝗻 - the anti-fungal, antioxidant and antibacterial properties of cinnamon makes it useful against skin blemishes.
–
At The Flower Pot®, our mission is to create a safe and reliable space for you to explore + experiment with the benefits of botanical medicine. Follow us on Facebook, Twitter, Instagram, Pinterest, Youtube and LinkedIn.
It's 420 — an international day dedicated to a very special plant. But what are we really commemorating? Times are strange, and humanity is facing extraordinary challenges. Yet at the turn of the d...